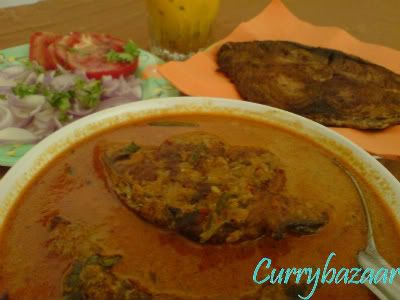 A fish curry that's been tried, tested and polished off our plates quite a number of times is
this quick and easy recipe from Sig's Live to Eat
. The beauty of this recipe is the unique blend of tamarind and coconut milk that makes this curry very likable for its mild spiciness. While Sig used halibut in this recipe, I've tried it with both king fish and pomfret and both taste great. Frying the fish and then dunking it in the sauce leaves it crunchy and soft at the same time. The curry tastes great with rice and sliced onions rubbed with lime and salt.
For the Marinade:
4-6 pieces of king fish filets or 2 pomfrets, cleaned
1/4 tsp black pepper
1/4 tsp paprika
salt to taste
1/4 tsp olive oil

For the Sauce:
1/2 cup shallots thinly sliced
1 tbsp diced garlic
1 green chili pepper slit
a few curry leaves
1 tbsp olive oil
1/2 tsp coriander powder
1/2 tsp red chilli powder
1/4 tsp turmeric powder
1 tsp tamarind paste
1 cup coconut milk
Wash the fish and pat dry with paper towels. Rub the fish pieces with the olive oil and season with pepper, paprika and salt.



To make the sauce, heat oil in a sauce pan, and saute the shallots, garlic and green chilli till soft. Add the curry leaves and saute for another minute. Reduce the heat and add the spice powders and saute till the spices are cooked well. Add the tamarind paste, salt and coconut milk and bring to a boil on medium heat.


In the mean time, heat some oil in a pan just enough for shallow frying. Fry the fish pieces, skin side down for four minutes on high heat. Turn the pieces and cook the other side on medium heat for four more minutes.

To serve, arrange the fish on the serving plate and top with two table spoons of sauce. Serve with rice or a salad.