Idli podi or gun-powder as it is popularly called is a fiery, dry chutney powder that is served with idlis. The bland taste of idli is fantastically complemented with this hot, spicy chutney which is a blend of dal, rice, red chillies and spices. Idli podi is usually made in large quantities and bottled to retain the flavours. It stores well at room temperature for months, though the fieriness may go down a bit on prolonged storage. This idli podi can be served with idlis, dosas, uttappams etc. The recipe given below is my grandmother's which we quite love and is different from other idli podi recipes where rice and curry leaves are not used. This podi is served by mixing coconut oil into it to highlight the flavours whereas other recipes use sesame/gingelly oil or ghee. This powder will turn brown when roasted while the other podi are usually red in colour.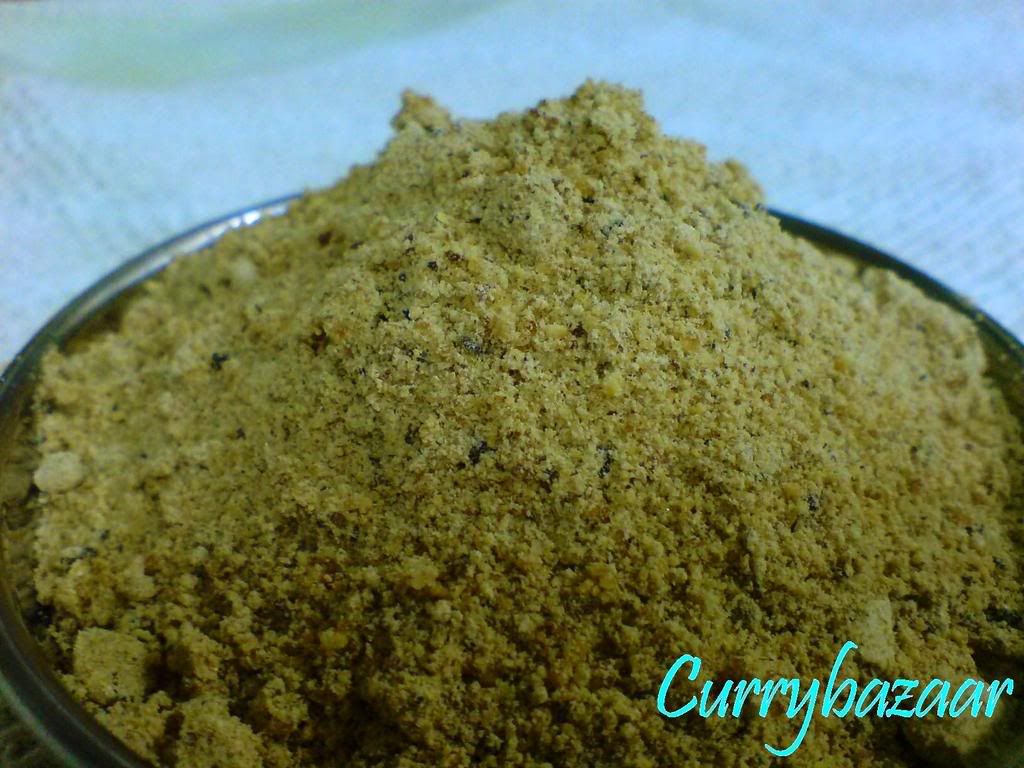 You need:
1/2 glass rice (both raw rice and boiled rice work well)
1/4 glass urad dal
1/4 glass channa dal
1 tsp jeera/cumin seeds
a large pinch of hing
6 or more red chillies (the hot variety)
10-12 peppercorns
1 tsp til/sesame seeds
a handful of curry leaves
Roast the peppercorns, red chillies and curry leaves in 2 spoons of oil till they change colour. Add the remaining ingredients and fry till they turn golden brown. Cool thoroughly and powder finely. Store in dry, airtight bottles.
While serving, mix a few spoons of chutney with coconut oil to enjoy the true flavour of Kerala.