A packet of babycorn, a handful of baby carrots and koosa were languishing in the crisper. That is when
Sia's Babycorn-carrot masala
came to the rescue. The unusual combination of carrots and babycorn in a creamy gravy was enticing. One of the changes incorporated into it was the addition of koosa, the Arabic name for a pale green, cucumber-like vegetable also called "squash", "zucchini" and "marrow vegetable" on signboards in supermarkets - I have no idea what it is called in English. It is widely used in Lebanese cuisine and tastes great in curries.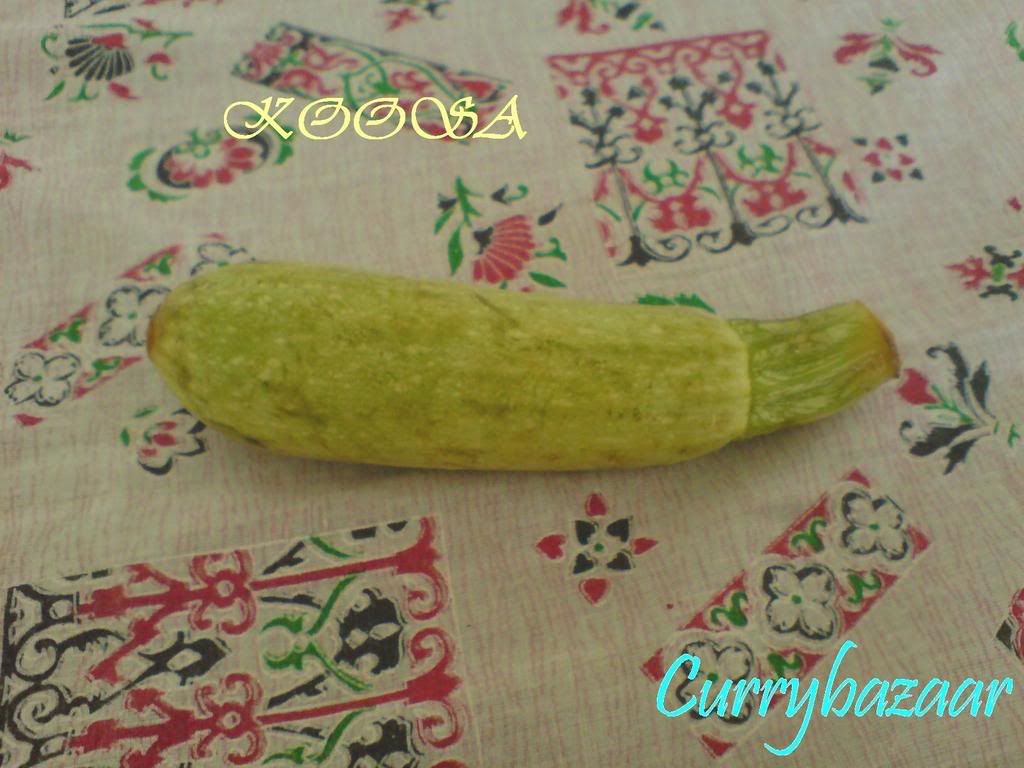 For the ground masala, I replaced the cashew nuts and sugar with 1 tbsp of yoghurt which gave the gravy a creamy richness without the extra fat and sweetness. I also pressure cooked the vegetables along with the masala for 2 whistles. The carrots and babycorn were just tender and had absorbed the masalas very well.
The verdict: It was a change from the routine and we particularly liked the creamy gravy. The addition of kasuri methi and kitchen king masala lent a nice balance to the sweet taste of the vegetables. Next time I'll try adding a different combination of vegetables, paneer or chicken to the gravy or even cook the gravy with cashew nuts and some cream!

Here's the recipe with Sia's permission and my own changes. Thanks, Sia!
For Ground Masala:
1 small Onion, quartered
3 large Tomatoes
2-3 cloves of Garlic
¾ -1 inch Ginger, peeled and chopped
2-3 Dry Red Chilli
¾ -1 tsp Garam Masala
½-1 tsp Kitchen King Masala
½ tsp Jeera/Cumin Seeds
1 tsp Coriander Seeds
Grind the above ingredients to a smooth paste and keep aside.
Other Ingredients:
One packet Baby Corn, cut into fingers
10-12 Baby Carrots
2-3 koosa, cut into fingers
1 medium Onion, finely chopped
2-3 Green Chillies, slit
1 tsp Jeera/Cumin Seeds
½ tbsp Kasuri Methi/Dried Fenugreek Leaves
1 tbsp Coriander Leaves, finely chopped
1 tbsp Yoghurt
¼ tsp Turmeric Powder
½ tbsp Oil/Ghee
Salt to taste
Heat oil in a pan and add cumin seeds to it. When cumin splutters, add finely chopped onion and slit chillies and sauté till it turns golden brown. Add ground paste, kasuri methi, yoghurt and sauté for 2-3 minutes till raw smell of masala disappears. Add salt, turmeric and the vegetables and sauté for a minute. Add sufficient water and pressure cook for two whistles. Turn off from the flame. When the cooker cools, open lid and adjust consistency if required. Garnish with coriander leaves. Serve hot with rotis/parathas.